Patrick A. DeZess, CTS-D, CTS-I, CQD
Owner

Mr. DeZess has more than 20 years experience with all types of system designs, including classrooms, conference rooms, command centers, watch floors, auditoriums, multipurpose rooms, centralized distribution, facility-wide paging systems, and digital signage. Mr. DeZess is well positioned to understand any design challenges and how to overcome them. His extensive involvement with large projects includes not only work on the designs but has encompassed the entire project lifecycle from capture through commissioning.

Mr. DeZess has spent the past 12 years leading and growing multidisciplinary teams. He specializes in addressing the challenges that organizations of all sizes face in developing internal standards and efficient processes. While successfully managing the growth of his first team from 13 people to more than 46 in just five years, Mr. DeZess experienced the difficulties facing rapidly developing companies. He has the experience to analyze and assist as organizations facing similar challenges.

Mr. DeZess practices an example-based leadership style, heavily focused on mentoring staff members and continuing the growth of our industry. His teams focus on delivering high-quality projects designed with a strong respect for the customer's unique requirements and a proven set of standard practices. With a dedication to value-focused system design, he ensures that customers get the right technological solution that also meets financial requirements.

Mr. DeZess's advanced certifications include Audiovisual and Integrated Experience Association (AVIXA) Certified Technical Specialist Designer (CTS-D), Certified Technology Specialist Installation (CTS-I), and Association for Quality in Audiovisual Technology (AQAV) Certified Quality Designer (CQD). As part of an exciting and dynamic industry, he remains committed to understanding and responding to changes in technology with a dedication to continually improving design methods and processes.

Our industry is a dynamic landscape that requires not just skilled people, but visionary individuals who can move teams forward. Leaders such as Mr. DeZess understand that maintaining efficient project lifecycles while not compromising design standards is the critical function of a mature process.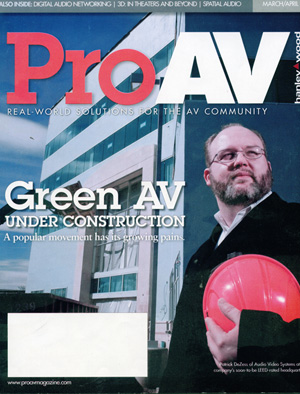 Key areas of expertise:

- System Design, Integration, Testing, Commissioning, and Training

- Strategic planning for technological innovation

- Standards development and implementatio

- Client and vendor relations

- Resource management, Labor reporting, and Capacity Planning

- Mentorship and Staff Development

- Enterprise ERP deployment, data standards, and SQL Server


"It's not about what you know, but rather the ability to teach what you know to others."